Patios: Simple fixes deliver resort style to your own backyard

(ARA) - Sure you would like to live the fantasy this summer, spending a week lounging at a luxury resort, sipping colorful beverages, sinking into a plush chaise lounge beside a crystal blue pool while a cool breeze wafts through the fronds of a nearby palm. But & there's this whole thing about the economy.
Even though things are getting better, you may still hesitate to spend your hard-earned or hard-saved cash on something as transient as a luxury summer vacation. Instead of splashing money away on travel, why not bring the luxury home by creating a resort-like outdoor environment that will both enhance your enjoyment and improve the value of your house?
Improving your outdoor living space continues to be a good investment. Great outdoor living spaces continue to top the list of most-desired features for both homeowners and potential buyers.
And for what you might spend on a luxury vacation, it's possible to create your own personal oasis of luxury that you can enjoy for the entire summer, rather than just for a week.
Not sure where to begin? You can add home-style versions of the high-priced appointments such as pools and wall murals that you would find in luxury resorts around the world.
Water play
A pool is a must-have for a high-end resort. Thanks to kits that include everything from the pool walls and liner to the filter, it's possible to cheaply install an above-ground pool in your backyard - provided homeowners association rules allow it. Prices range from a few hundred dollars for basic pools to a few thousand for more upscale versions.
If a pool is out of your budget, or prohibited in your neighborhood, or your yard is just too small for it, consider adding a different kind of water feature that takes up less room. Modestly sized fountains, rain chains, even a bird bath, can all deliver a restful mood and the charming sound of flowing water.
Set the stage
If you don't already have a deck or patio, adding one is a great investment. You can go totally over the top - if that's in your budget - or start with a modest deck that can be expanded later. If you already have a deck, consider upgrading it, along with the regular seasonal maintenance you already do. You can add designer touches like metal balusters on railings and decorative caps on posts. Accent lighting, built-in seating and firepits also can enhance a deck's appeal.
Artful accents
Resort designers recognize the power of a wall mural to transform a space from merely beautiful to exotic. Virtually any smooth outdoor surface can host a wall mural, thanks to easy-to-mount wallpaper murals available from websites like www.MuralsYourWay.com. Adding a mural to an architectural niche, outdoor wall or even a sliding glass door can create a conversation piece for outdoor gatherings, establish a mood for your outdoor space and convey continuity between outdoor and indoor decor.
Luxury lounging
Outdoor furniture is one area where it pays to spend a little more to get a durable, well-made set that you love. For maximum luxury, you'll need more than just a table and four chairs. Consider love seats, lounges and ottomans to impart depth, variety and comfort to your outdoor seating arrangement. If you already have a well-made set that just needs a little sprucing up, invest in quality new cushions. Metal sets can easily be freshened with a coat of spray paint and wooden sets can be refinished or painted to look like new.
Instead of spending money on a luxury vacation, keep the money and the value home this summer. With a few custom design touches you can turn your outdoor living space into your own personal resort.
Courtesy of.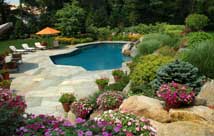 | | | |
| --- | --- | --- |
| | | Respond Landscaping Directory lists the top Patio Contractors in your area, organized by specialty and office location. |