Lawn Treatment: A Great-looking Lawn is in the Details

Turn up the fun and turn down the heat this summer(ARA) - Do you want your lawn to be the envy of the neighborhood? You can?t do it with just a lawnmower. A string trimmer is probably the most versatile outdoor tool for your money and a key item to have in your shed. String trimmers not only trim areas your mower can?t reach, they can also be used to clear away unsightly brush or weeds, some even double as an edger. There are also Expand-it attachments available that will allow you to turn a split-boom trimmer into a blower, tiller and pole pruner.
Before you purchase your next tool, you should consider the following tips from the experts at Ryobi Outdoor Products.
The Right Fit
* Before purchasing you should handle several different models and determine which feels best in your hands.
* Taller people might prefer a straight shaft string trimmer, which allows for greater reach and less strain on your back.
* Look for a ?split-boom? trimmer -- these are the most versatile trimmers on the market and allow you to add attachments.
* Make sure the model you are considering has a ?bump feed? line advance system.
* Those who prefer lightweight tools and have less total area to trim, may find an electric model a wise choice because they are generally lighter and easier to operate.
Maintenance
If you already have a string trimmer, keeping up with annual maintenance as noted in your owner?s manual is the key to keeping it running year after year. Here are a few tips:
* Check the spark plug regularly for wear and gap, replace it annually.
* Check and ensure straps, handles, nuts and bolts are secure.
* Clean the air filter in the middle of the season and replace annually.
* Check and make sure you have a sufficient supply of new trimmer line.
Safety
Now that you?ve purchased a trimmer or tuned up your old one, it?s time to trim, but before starting it up, don?t forget these important safety tips:
* Always remove stones, sticks and other objects from the area before you begin trimming.
* Make sure children and pets are a safe distance away before starting the unit.
* Dress properly for the job, wearing boots, gloves, long pants and close fitting-clothes. Wear safety glasses or goggles, and hearing protection.
* Fill the gasoline tank only while the engine is cool.
For more information on trimmers, chainsaws, blowers and attachments please call (800) CHAINSAW.
Courtesy of ARA Content .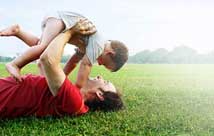 | | | |
| --- | --- | --- |
| | | Respond Landscaping Directory lists the top Lawn Treatment Companies in your area, organized by specialty and office location. |