Fences: Inspect home fencing to ensure safety and security

(ARA) - Weather extremes are brutal on exterior landscaping. Rain, snow, wind and temperature variances all take a toll, especially on residential fencing.
Rain hastens rust and wood-rot, and ground freezing and thawing or high winds can affect gate alignment. Gate misalignment - as well as rusty metal hinges and latches - can lead to gates that no longer close securely. These conditions can be dangerous or even deadly if ignored.
Weakened or damaged fencing can open up your property to unwanted intruders.
Now's the time to inspect fencing, gates and gate hardware around your property to ensure all are in good working condition.
Selecting the right gate hardware can easily solve most of these problems. Innovative gate hinges and latches by D&D Technologies are made of super strong engineering polymers that will not rust, are adjustable, self-lubricating and include high-grade stainless steel mounting hardware. They require little or no maintenance over the years and are backed by a limited lifetime warranty.
Updating your gates so that they are self-closing and self-latching, improving their security and overall look, can be done in just a few minutes with these unique products. D&D latches feature built-in key locks, which eliminate the hassles and extra cost of a separate padlock or pull-string. The company's hinges have a built-in self-closing spring that is tension adjustable for different gate weights with a twist of a screwdriver and eliminates those dangerous and unsightly external springs. These products are simple to install, and include easy vertical and horizontal adjustments, which help keep gates properly aligned for secure closing years after the products are installed.
Fences protect children and pets from danger - whether they're designed to keep toddlers out of swimming pools or to keep children and pets in the yard, away from busy traffic. Properly working gates can also reduce homeowners' liability.
Even if your fence has been erected primarily to define your property line, it's ineffective if access gates don't close or latch properly after opening. When was the last time you checked each gate around your property?
"In our research, we found that when homeowners consider their fencing needs, rusty metal gate hardware that no longer functions properly was their No. 1 concern," says D&D Technologies' Senior Vice President Jim Paterson. "Most homeowners are not aware that rust-free and adjustable gate hardware is available."
If you have a pool or spa, or want to prevent children from opening any gate, D&D's MagnaLatch is specifically designed for these situations. It meets pool barrier codes and is endorsed by many safety experts.
"Now is a great time to ensure that your fences and gates are functioning properly and are protected from rust, a destructive force that can render gate hardware useless," says Paterson. "Common gravity latches are inexpensive and function fine when new. However, as soon as rust sets in, these latches no longer close without manual assistance."
He notes that D&D's rust-free gate hardware has been sold primarily through the professional fencing industry, but is now available direct to consumers under the Stanley or National Hardware brand through Lowe's and other hardware retailers.
"For the fencing itself, rust can present greater challenges," Paterson says. "Steel fences and gates, if not protected with an effective sealant such as powder coating, must be periodically repainted with rust-resistant paint to prevent weather-related damage. Be sure to remove existing rust before painting, and use a rust-preventive primer. For wood fences, use paint specifically designed for fencing.
"Aluminum, vinyl or wood fencing can protect against rust on the fence itself," Paterson continues, "but the hardware must still be rust-free and adjustable to ensure the gate will be in working order. A quick inspection - and if needed - the minutes spent installing new gate hardware, can help protect your family and property, increasing security and decreasing liability." For more information, visit www.ddtechglobal.com, e-mail info@ddtechusa.com or call (800) 716-0888, ext. 292.
Courtesy of ARAcontent.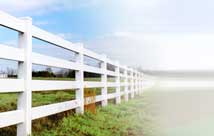 | | | |
| --- | --- | --- |
| | | Respond Landscaping Directory lists the top Contractors in your area, organized by specialty and office location. |