Decks: Put a gloomy, dreary day to good use: prep your deck

(ARA) - Now is the time to get outside and prepare outdoor living spaces for the entertainment season ahead. While sunny days are perfect for fertilizing the lawn, planting flowers and laying mulch, don't waste those gray, overcast days, which are great for other DIY projects. One task that can be tackled on a dreary day is prepping and cleaning your deck for upcoming barbecues and get-togethers.
Staining your deck is one of the best ways to protect your investment from the elements, keep it looking nice and make it easier to maintain. However, professional results don't rely simply on laying down a coat or two of stain - any deck project should start with proper cleaning and preparation.
And, while you may want a perfectly sunny weekend to stain your deck, prepping can be done at any time. Below are simple steps to help achieve great-looking results that last:
Gather your tools and materials. Plan to have the following within reach as you prep your deck:
* Broom or leaf blower
* Ladder (for decks off ground)
* Rags
* Tarps
* Buckets for mixing
* Synthetic brushes (2 to 4 inches)
* Rollers
* Long handles for rollers
* Roller frames and roller grids
* Cleaning product. Flood wood care offers wood cleaning and stripping products to help clean and brighten surfaces dulled and grayed by the sun, dirt and rain.
Check your surfaces. To ensure your deck is both safe and beautiful, be sure to inspect the area for bad wood, dry rot, loose nails, loose spindles and broken boards. Replace boards as needed and secure any loose nails and spindles.
Prepare yourself, the deck and the surrounding area. Make sure you take all safety precautions before embarking on your deck cleaning project. Wear gloves, safety glasses and old clothing - shorts are not recommended. Before starting, cover any areas you want to protect, wet down plants and shrubs, and wet your deck surface with water.
Clean, scrub and renew. Work the cleaner into the wood, working from the bottom up to reduce streaking. Be sure to keep the surface wet with water and let the wood cleaner stand for 20 to 30 minutes before rinsing. Once cleaned, wood should dry for at least 48 hours before applying stain.
The cleaning process for an average-sized (300 to 500 square feet) deck should take approximately five to six hours. And, since Mother Nature won't harm your work, cleaning can be done on a gloomy day. A properly cleaned deck should be stained within 30 days. After 30 days, a light cleaning with bleach and water before staining will do the trick. For more information on wood care products, visit www.flood.com.
Courtesy of ARAcontent.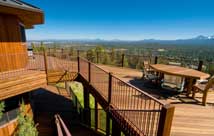 | | | |
| --- | --- | --- |
| | | Respond Landscaping Directory lists the top Contractors in your area, organized by specialty and office location. |